This is a full suspension mountain bike designed for trail or "enduro" riding. the frame is from walnut and London Plane. Both these woods are strong and resilient. The core is hollow which allows for internal cable routing through plastic sleeves so that the cables can be easily fed through
this was new in 2015
this is hundreds of miles later and several falls resulting in broken ribs, broken finger dislocated shoulder , bike having flying lessons etc but bike is fine: I think Im definitely going to break before it does :its now got a bigger rear cassette new rockshox fork , shwalbe tyres , new bar, brass bearings for the pivots with a through bolt through the seatpost pivot and locking washers on the pivot screws: Im still riding it every weekend and doesnt need any more mods: The carbon Specialised stumpjumper lies abandoned in the garage now: heres the old warhorse now:

thegringo
(May 3, 2015 at 6:22)
 When God created "EVERYTHING" in 6 days, this is what he created on His day off. Sunday. LOL.
[Reply]
heres the construction and out for a ride:
The bottom bracket uses the Praxis PF30 system which is strong and stable under load:
This bike has a 2 speed front mech. The suspension linkage is made from Aluminium and the pivot points (bearings) are brass lubricated with copper slip grease. This seems to work well.
The front head angle is quite slack .  The wheels are Crank Brothers tubeless although I run them with tubes
The rear mech and drive are Shimano Deore which works well and there is a clutch on the rear deraileur arm to stop chain slap
The bar is Crank brothers and the head tube is designed to take a tapered front fork. The one here is the Fox float
recent mods include : repacement of Fox front forks with Rockshox, replacement of cassette with a much larger one, tyres replaced with Schwalbes for faster running. I use it every weekend.
pink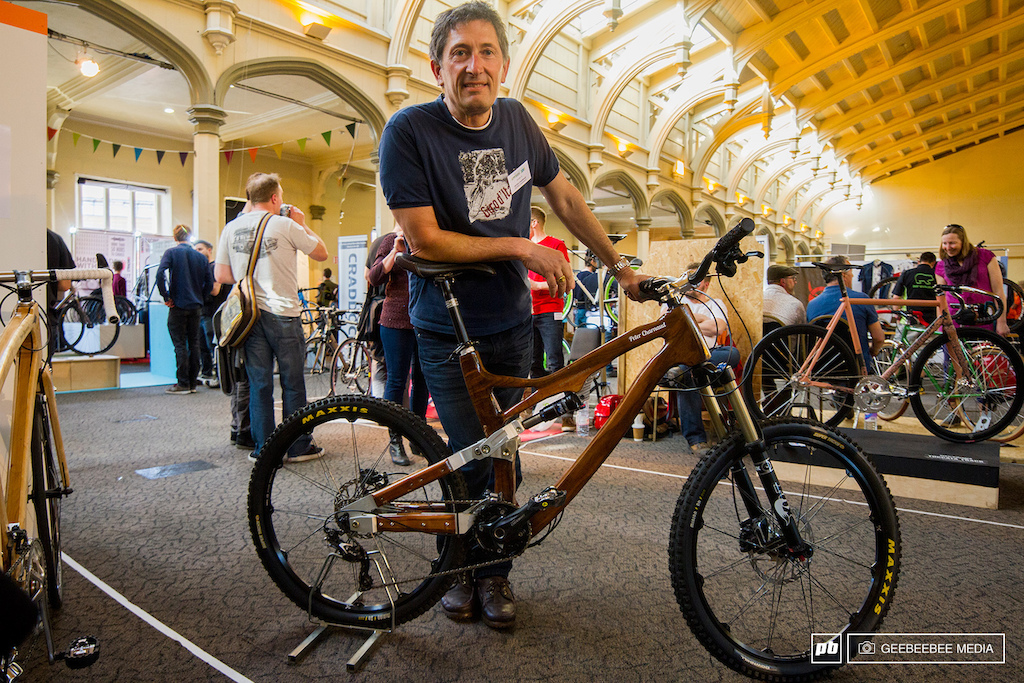 WoodenBikeCo – 'Un-named'